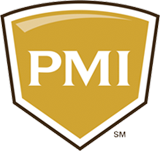 Free Rental Analysis
Call us today!
Enter your rental property address below to get your free rental analysis.
Stress Free Atlanta Property Management

Owning a residential rental property can be a lucrative investment, but it also carries with it its share of headaches and worries. Finding a skilled Atlanta residential property manager can save you a lot of time and money.
With our full service Atlanta property management, you get much more than just one over-worked property manager. You get a full team of skilled professionals with the expertise to provide you with the highest level of service and the maximum return on your investment.
We are a full service property management company managing homes in 18 counties surrounding Atlanta. Our company takes pride in being active participants in NARPM (National Association for Residential Property Managers) and continuing our education to stay current in the changing market.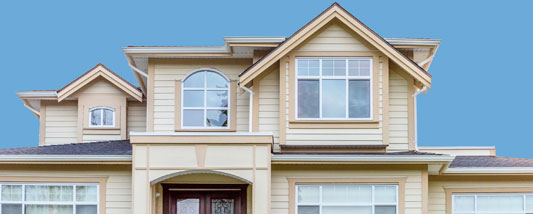 SINGLE FAMILY PROPERTY MANAGEMENT
Our Atlanta area property managers will safeguard your property, manage your tenants, and protect your investment, all without you having to lift a finger. You'll be amazed at how much time and money our residential property management services can save you in both the long and short term.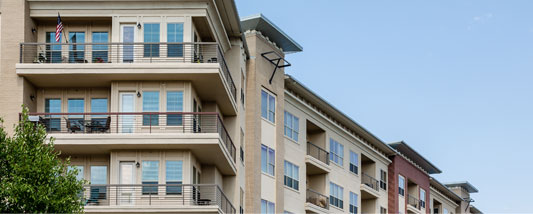 MULTI-FAMILY PROPERTY MANAGEMENT
Our Atlanta apartment property management services include all necessary maintenance, tenant screening & management, and regular property inspections. Whether you own one unit or many in an apartment building, our Atlanta property managers can handle it all.
What We Do As Your Atlanta Property Manager
We do more than just collect rent - 5 steps to successful management.
Property Marketing

Tenant Screening

Rent Collection

Property Maintenance

Financial Reporting
SEE WHY OUR CLIENTS COME BACK TIME & AGAIN

"My property is being well taken care of and I am so happy to have such a high quality company watching out for my interests. I wish everybody could enjoy this kind of a relationship with their property management company."
R.B. Wheatley
"Before I found PMI it took days to get my property management company to respond to my phone call. Repairs were completed without informing me about the costs. I repeatedly asked them to call me before spending my money but that never happened. Finally I'd had enough! Now, with PMI, I can have my child check on my investment property. It is so easy and so convenient that my 12 year old helps me keep track of it."
J. Jensen
"PMI has been the best decision I could have made. Their customer service is flawless. Both myself and my tenants have been treated to the most responsive courteous and professional service that I have ever experienced."
T. Harper

Previous

Next
How much rent can you get for your investment?
If you're thinking about renting out your house, it's important to set a rent that will cover your costs, earn you a profit, minimize vacancies and provide value to your tenants. It's tempting to ask for a very high rent, and occasionally you will find someone who will pay it--but generally you will need to appeal to a wider audience by charging a rent more in line with the market value.
Atlanta Area Info

There is an incredible opportunity to purchase homes in Atlanta well below the cost to build, but the window is beginning to close. Foreclosures are beginning to slow and new building has started. But it is NOT too late! Contact us today to build your investment portfolio & generate passive income for life. Great investment opportunities are available right now!
The below information is sited from the Metro Atlanta Chamber:
Metro Atlanta welcomes you and your professional dreams. As the capital of Georgia, metro Atlanta – the 9th largest U.S. population center - is uniquely positioned to provide the best business environment, from its balanced economy to a superior quality of life - See more at: https://www.metroatlantachamber.com/
The metro Atlanta region is home to more than 5.3 million people and nearly 150,000 businesses, a world-class airport, multiple parks and green space, competitive schools and numerous amenities for entertainment, sports and restaurants that all offer a top-tier quality of life. From its diverse economy, global access, abundant talent and low costs of business and lifestyle, metro Atlanta is a great place to call "home." Residents have easy access to arts, culture, sports and nightlife, and can experience all four seasons, with mild winters that rarely require a snow shovel.
METRO ATLANTA:
Largest economy of all metro areas in the Southeast region - Population: 5.3 million (2011)
2nd-largest metro area in the Southeast region, behind Miami
9th-largest metro area in the U.S.
Forecasted to increase to 8.4 million and become the largest metro area in the Southeast region and the 7th-largest metro area in the U.S. (2040)
ATLANTA'S STRATEGIC LOCATION:
over 92 million passengers annually
nearly 250,000 passengers each day
Atlanta is within a 2-hour flight of 80% of U.S. population
Direct flights to more than 160 U.S. destinations and 70 international destinations in 45 countries
ATLANTA'S DIVERSE ECONOMY & BUSINESSES:
FORTUNE 500 Headquarters (13)
Ranked 3rd in the U.S .for FORTUNE 500 HQ's
Ranked 3rd in the U.S. for Global 500 HQ's
Approximately 65 countries are present in metro Atlanta
ATLANTA'S TALENTED WORKFORCE:
2.7 million in the workforce; 259,000 available for work
34.5% of population 25 years and over have completed higher education with a bachelor's degree or higher
Among top ten in college-educated 25-34 year olds
Georgia has an internationally acclaimed workforce development program –QuickStart
ATLANTA IS A HIGHER EDUCATION HUB:
Top higher education center for enrollment growth, degrees awarded & research spending
57 colleges & universities in the metro Atlanta region enroll more than 250,000 students each year
7 technical colleges
ATLANTA HAS A LOW COST OF LIVING & LOW COST OF DOING BUSINESS
ATLANTA HAS A SUPERIOR QUALITY OF LIFE
Other "Why Atlanta?" Informative Links:
Atlanta Area Info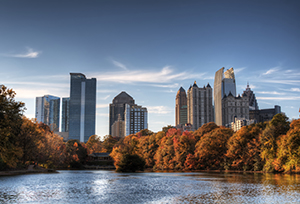 Atlanta has the highest elevation out of major cities east of the Mississippi River. Atlanta's high elevation distinguishes it from most other southern and eastern cities, and contributes to a more temperate climate than is found in cities at similar latitudes. Atlanta is divided into 242 officially defined neighborhoods. The city contains three major high-rise districts, which form a north-south axis along Peachtree: Downtown, Midtown, and Buckhead. Surrounding these high-density districts are leafy, low-density neighborhoods, most of which are dominated by single-family homes.
Downtown Atlanta contains the most office space in the metro area, much of it occupied by government entities. Downtown is also home to the city's sporting venues and many of its tourist attractions.
Midtown Atlanta is the city's second-largest business district, containing the offices of many of the region's law firms. Midtown is also known for its art institutions, cultural attractions, institutions of higher education, and dense form. Buckhead, the city's uptown district, is eight miles north of Downtown and the city's third-largest business district. The district is marked by an urbanized core along Peachtree Road, surrounded by suburban single-family neighborhoods situated among dense forests and rolling hills. As a national center for the arts, Atlanta is home to significant art museums and institutions. The renowned High Museum of Art is arguably the South's leading art museum and among the most-visited art museums in the world.
Areas Serviced


100 Glendalough Ct
Suite D2
Tyrone, GA 30290
Each franchisee is independently owned and operated and Property Management Inc. and Property Manager Websites
are not responsible for any representations, warranties, covenants or obligations of Franchisee.
PMI Georgia is committed to ensuring that its website is accessible to people with disabilities. All the pages on our website will meet W3C WAI's Web Content Accessibility Guidelines 2.0, Level A conformance. Any issues should be reported to Management@PMiGeorgia.com.
Website Accessibility Policy